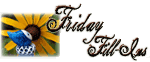 1. The worl is cold and powdered with snow - at least at my part of the world ;-).

2."liebhaben" (means I love you) was the last thing I said.

3. I wonder how long it will take until my sweet♥ C.bear will be fine again (he's got a bad cold since yesterday) .

4. There will be always something new at the end of all things.

5. There's something to be said for being inside cuddling with the one you love when it's cold outside.

6. On a sunny beach in the carribean sea together with C.bear is where I want to be.

7. And as for the weekend, tonight I'm looking forward to having a yummy dinner (as long as sweet&heart is fit enough), tomorrow my plans include taking care for C.bear and Sunday, I want to cuddle the whole day with sweety!!

Hugs to all of you,
♥ Sonny